11 Exciting Activities to Explore in Dubai.
Headway Car Rental service in Dubai is the ultimate choice for anyone looking for a budget car rental in Dubai to embark on your adventure. In this article, we'll guide you through everything you need to know before setting up on this unforgettable journey.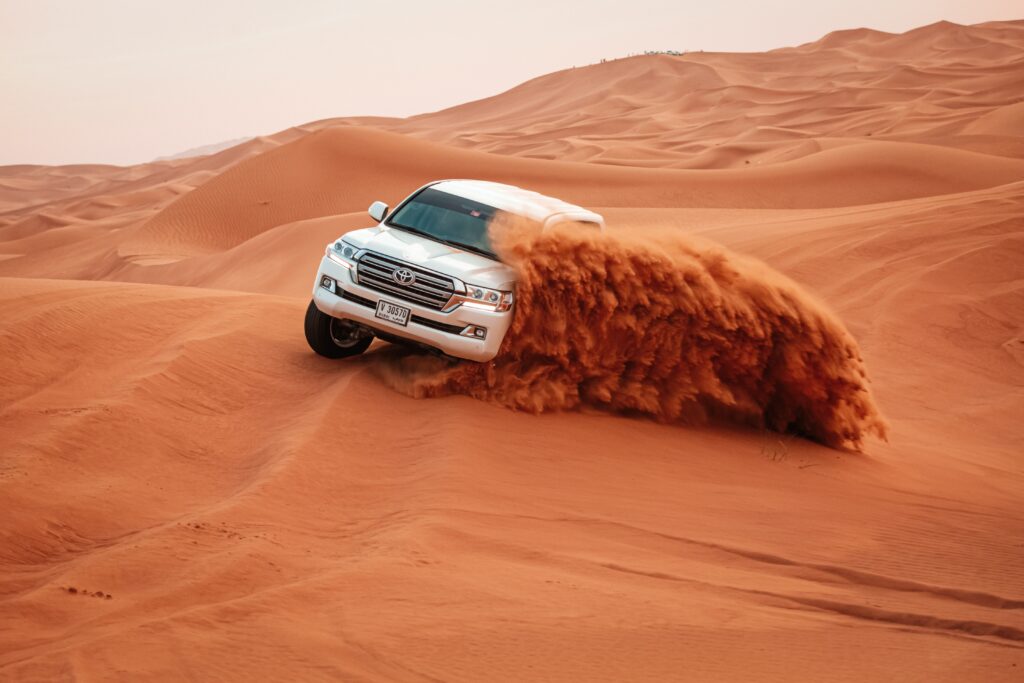 Dubai is known for its glitz, glamour, and modern lifestyle. However, beyond the city's skyscrapers and luxurious hotels lie an entirely different world of adventure. Are you seeking a departure from the usual scenic dinner cruises? Dubai offers an array of exhilarating activities to satiate the appetite of adventure seekers.
1. Feel the Thrill of Skydiving
Undoubtedly, one must have come across videos of skydiving over Palm Jumeirah in Dubai, showcasing individuals revelling in this thrilling activity. It is indeed one of the most adventurous things to do in Dubai, tailor-made for the brave-hearted.
Partaking in this activity on one's Dubai tour promises a once-in-a-lifetime experience. With each passing second as one rockets down to the earth from a height of 13,000 feet, one is bound to encounter an unmatched adrenaline rush. The breath-taking view is simply awe-inspiring, elevating the whole experience to a whole new level.
When it comes to listing the ultimate things to do in Dubai for an adrenaline rush, skydiving in Dubai will always find its name at the top of the list.
2. Stargazing at Its Best
Are you fascinated by space and science? Do you love exploring new places that pique your curiosity? Then the Al Thuraya Astronomy Center in Dubai is a must-visit destination for you! This unique centre offers a plethora of interactive experiences that are bound to leave you in awe.
Among the highlights are the planetarium show, astro cinema, and engaging games that will evoke a childlike sense of wonder. In addition to these experiences, the centre also provides entertainment that will expand your knowledge of space and science. Exploring all the offerings at the centre is an impressive activity to undertake during your stay in Dubai. Moreover, the experience is enhanced when you take advantage of the opportunity to stargaze at night, which is facilitated by the centre's location on the outskirts of the city.
3. Aquaventure at Atlantis
Aquaventure Atlantis Paradise Island Water Park in Dubai is the ultimate entertainment destination for all ages. Spread over 141 acres of waterscape, it offers thrilling slides, rides, and encounters with marine life that will leave you with an adrenaline rush. In-house guests and outside visitors can enjoy this water park and all it has to offer, including high-speed rides, 20 swimming areas, and a mile-long river ride with rolling rapids and wave surges. For those who prefer a more relaxed experience, there's also a picturesque private beach that spreads over 700 metres. From Shark Safari to Cownose Ray Feeding, there's something for everyone at Aquaventure Water Park.
4. Explore Dubai from a Helicopter
Discover Dubai's breathtaking skyline from a whole new perspective with a seamless helicopter ride. Experience the city's iconic landmarks like never before, including Palm Jumeirah, Burj Al Arab, Burj Khalifa, and The World Island. This exhilarating and memorable experience will take your breath away and give you a newfound appreciation for the city's grandeur.
Capture every moment of the continuous change of scenery as you witness the stunning contrast of the desert sands and the blue waters of the Persian Gulf. Admire the impressive architecture of the world's tallest building, Burj Khalifa. Suitable for everyone, a helicopter ride takes approximately 15-20 minutes and provides a bird's eye view of the city. Don't miss out on this must-do activity in Dubai – the memories will stay with you forever.
5. Enjoy the Sunrise from a Hot Air Balloon
Experience a thrilling and peaceful adventure with a hot air balloon ride over Dubai's Desert Conservation Reserve. Soaring at an altitude of 1200 metres above the dunes, you'll witness the stunning desert vistas and catch a glimpse of the sunrise like no other. The tour begins with an early morning pick-up from your hotel and a journey to the reservation. Once there, you'll receive a safety briefing and board the hot air balloon. Each balloon can carry up to 24 people, and the flight lasts around 45 minutes to an hour. It's a once-in-a-lifetime opportunity that shouldn't be missed, even if it means waking up early! Don't hesitate to take to the skies and enjoy the breathtaking views of the Dubai desert.
6. Dine at Burj Khalifa
Dare to reach new heights with a visit to the top of Burj Khalifa – the tallest building in the world! Experience breath-taking views of Dubai and beyond, spanning the vast desert and shimmering Persian Gulf. The 'At the Top' ticket grants access to the 124th floor indoor viewing platform and open-air observation terrace. But for the ultimate VIP experience, venture even higher to a viewing point at 555 metres. After your daring ascent, treat yourself to an unforgettable meal at one of the world-class Burj Khalifa restaurants. The restaurants in Burj Khalifa are exceptional, offering impeccable service, an enchanting ambiance, and a variety of world-class delicacies. The chefs specialise in a range of cuisines, each restaurant having its own unique flavour. A visit to these restaurants is a must for foodies and those who want to elevate their dining experience to the next level.
7. Experience Zero Gravity at Ifly
Are you ready to soar through the air like a bird? Ifly Dubai can make it happen! Indoor skydiving is one of the most thrilling activities to try in Dubai, and Ifly Dubai offers an experience unlike any other. But that's not all! This attraction also offers virtual reality skydiving and other exciting activities like Yalla! Bowling and Sky Trail & Climbing Wall. With so much to do, you'll never want to leave. Make sure to bring your friends and family for a day full of excitement and adventure. Don't miss your chance to experience the thrill of flying at Ifly Dubai!
8. Discover the Magic of the Deserts
Get ready for an adrenaline-fueled day in the desert! Strap in for an exhilarating 4×4 dune bashing experience that will leave you breathless. But that's just the beginning – hop on a camel for a slow-paced ride or grab a sandboard for a thrilling downhill rush. Dubai's desert has it all, including stunning views of the city's skyline. For the ultimate adventure, head to the Empty Quarter, the world's largest sand desert, and enjoy dune bashing, sandboarding, and quad biking. After a day of excitement, relax at the desert camp and savour some delicious Arabian dishes while puffing on a shisha by the fire.
9. Go Yachting
Embarking on a private yacht cruise may not be the most thrilling adventure in Dubai, but it's sure to leave an indelible mark on your memory. Imagine savouring champagne while leisurely gliding along the sparkling blue waters and taking in the iconic Dubai skyline – this is the ultimate indulgence. The best part? You can snag this luxurious experience for an affordable price, even with a group of up to twenty people – only USD 20 per person. So, there's no excuse to miss out on this dreamy excursion. It's time to treat yourself to a decadent yacht cruise and make unforgettable memories.
10. Hit the Slopes at Ski Dubai
Escape the summer heat in Dubai and experience winter sports all year round! Dubai Mall has one of the world's largest ice rinks, perfect for private lessons or freestyle sessions. If you prefer skiing, head to Ski Dubai at Mall of the Emirates, where you can hit the slopes with excellent snow, a jumping ramp, and a black run that will get your heart racing. After your exhilarating experience, enjoy some après-ski at one of the chalets overlooking the snowy slopes. Warm up with fondue, hot chocolate, or mulled wine, and feel like you're in a winter wonderland in the middle of the desert.
11. Explore Dubai's Underwater World
Dubai's mesmerising turquoise waters are a sight to behold, but what lies beneath is a whole new world waiting to be discovered. If you're feeling adventurous, dive into the depths of Amazing Sea World and explore the aquatic wonders of the region. Even beginners can take the plunge with no prior PADI licence required. You'll come across a vibrant world teeming with life, from barracudas and angelfish to different species of rays and even the occasional turtle. So take a break from the hustle and bustle of city life and immerse yourself in an unforgettable underwater experience.
Headway Car Rental is the perfect choice for anyone looking for a seamless and stress-free experience on their Dubai journey. Our vehicles are always well-maintained and equipped with everything you need to enjoy your adventure to the fullest. Our drivers are highly experienced and knowledgeable about the region, ensuring that you get the most out of your trip and providing cheap daily car rental in Dubai.
With Headway Car Rental, you can trust that your journey will be safe, comfortable, and unforgettable. Don't hesitate – book your desert safari with Headway Car Rental today and discover the magic of Dubai!